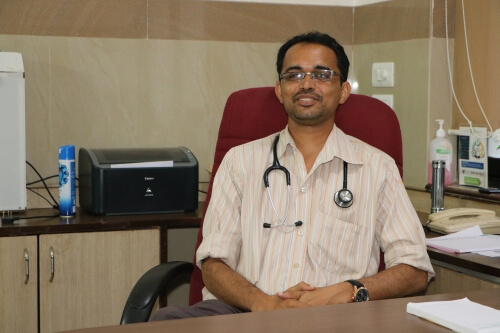 Dr. Guruprasad Bhat
MBBS, MD (Gen. Medicine), DM (Medical Oncology)
Medical Oncologist
Dr. Guruprasad Bhat who completed his MBBS from KMC Mangalore in 2007, persued his post graduation in General Medicine from Sri Siddartha Medical College, Tumkur, in the year 2011.
Further he obtained his DM in Medical Oncology from Kidwai Institute of Oncology in 2014.
Few among his accolades include: 2nd holder of RGUHS in General Medicine in 2011, one among the 6 young Oncologists in India selected by TYSA Oncology, publications in several journals, etc.
Dr Guruprasad Bhat has been working in the Department of Oncology since 2014.
Rheumatoid arthritis and long standing arthritis.
Spondyloarthropathies
SLE
Inflammatory eye disease
Connective tissue disorders
Allergic rhinitis, asthama, itching etc
Gout and other crystal deposition diseases
Paediatric arthritis
Autoimmunity related obstetric problems
Osteoarthritis
Physiotherapy and rehabilitation
Specialised laboratory testing