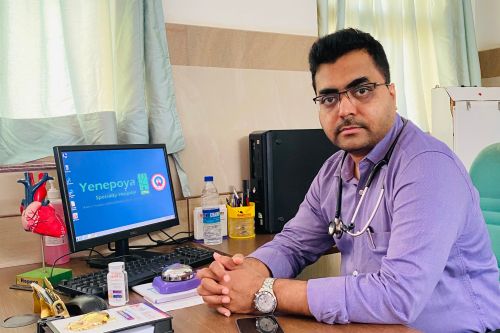 Dr. Prashanth R M
MD, DM (Cardiology)
Consultant – Interventional cardiologist
Dr. Prashanth R M who Achieved MBBS degree through RGUHS, from JJM Medical College, Davangere in 2003. Achieved Post graduate MD degree in Medicine through University of Mumbai, from Lokmanya Tilak Municipal Medical College, Mumbai in 2008.Achieved Post Graduate DM degree in Cardiology through RGUHS, from Sri Jayadeva institute of cardiology, Bangalore in July 2012.
Worked as an Assistant Professor, Department of Medicine in SS Institute of Medical Sciences, Davangere for 11 months from Aug 2008 to July 2009.
Worked as an Interventional Cardiologist at Arneja Heart Institute, Nagpur from September 2012 to September 2013.
Worked as Interventional Cardiologist & Asst. Professor in Dept. of Cardiology at K.S. Hegde Medical Academy from Oct. 2013 to Aug.2014.
Worked as Consultant & Interventional Cardiologist at Metrounited Healthcare, Shivamogga from Nov 2014 to June 2017.
Worked as Consultant & Assistant Professor, Department of Cardiology, Yenepoya Medical College Hospital, Deralakatee, Mangalore from June 2017 to July 2021.
Currently working at Yenepoya specialty Hospital, kodialbail Mangalore as a consultant Interventional cardiologist. since August 2021.
Skills in performing 2D echocardiography (neonatal, pediatric & adult), stress echo & TMT, perform Cardiac Catheterization; Coronary angiography & angioplasty through Radial route & Primary angioplasties. Trained in the use of FFR & IVUS. Can perform temporary & permanent pacemaker implantation and also pediatric & adult device closures.