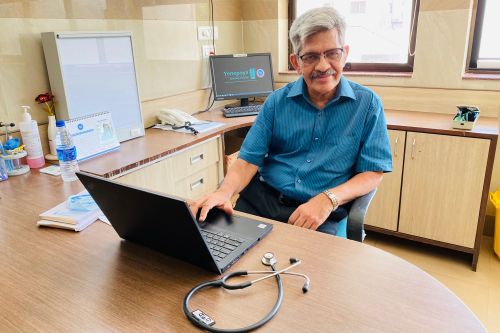 Prof C V Raghuveer
Palliative Care Conultanat,
Yenepoya Speciality Hospital.
Visiting consultant – Palliative Care
Perspectives of Palliative Care in Modern Medical Practice
Prof C V Raghuveer, Palliative Care Conultanat, Yenepoya Speciality Hospital.

It is indeed a panacea that Palliative Care is making its presence felt as a dynamic patient-centered system of Medical care.
Palliative Care is an approach that improves the quality of life of patients and their families facing problems associated with life-threatening illnesses, through the prevention and relief of suffering by means of early

identification, impeccable assessment and treatment of pain and other problems, physical, psychosocial and spiritual.
From the time of diagnosis of an incurable or life limiting disease Palliative care is applicable. A chronic and incurable disease need not be immediately life threatening, but can severely affect the quality of life and will benefit from Palliative care. In short, Palliative care is the care that heals physical, social ,psychological & spiritual symptoms of an incurable diseases to improve quality of life and addresses care giver distress. Palliative care considers dying as a normal process. End-of-life care, is an integral part of Palliative care provided to those who are dying, but the intention is not to hasten or postpone death. Palliative care helps people with life threatening or life limiting conditions live as actively as possible till the end.
Providing supportive care in such complex situations requires a multi disciplinary approach and if required can rope in other healthcare workers like social workers- friends of the community, who can help improve quality of life of patients and their families.
World over about 40 million people need Palliative care. More than 75 % of them live in low and middle income countries. Only 14 % of them have access to Palliative care. About 70 % of those needing Palliative care belong to above-60 age group. More than 2/3 of the countries in the world have either no Palliative care or isolated services. In India more than 6 million people need Palliative care but only 2 % of them have access to it3. The need will further increase due to population ageing and increasing NCD burden.
The Conventional treatment practice, is a disease centered approach, with the Physician as the General. The intent is curing.Disease is considered as a problem to be solved . The Physician is required to do something. It improves quantity of life. It is required that death has to be prevented. On the other hand, in Palliative care it is symptom centered and the Patient is the Supreme. While the intent is healing, disease is considered as an experience to be lived. The Physician is always there to answer questions. Palliative care improves the quality of life and death is accepted. It is true that in Palliative care we can not cure but can we not comfort ? can we not console? In palliative medicine ,we Cure rarely but we can Comfort often but Console always.Thus there are different perspectives to Palliative care which can be adopted for better care to the patients with incurable disease.