Cath Lab Services
The Department is equipped with GE Innova 2100 Cathlab Unit and is located adjacent to the CCU to facilitate easy patient transfer.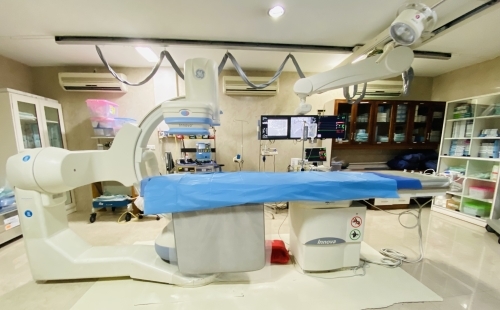 Cath Lab Procedures :
1. Coronary Angiogram(CAG)
2. Coronary Angioplasty
3. Temporary + Permanent Pacemaker(TPI+PPI)
Adult and Paediatric Cardiac surgery
This department has an excellent state of the art Cardiac Operation Theatre well-equipped to successfully carry out routine and emergency, conventional as well as complex operations.
The operations include
Coronary Artery Bypass grafting procedures including Off–Pump Valve replacement and repair surgery for faulty heart valves.
Congenital heart surgeries: Surgery for the correction of cardiac birth defects in children.
The facilities of the department include the latest, highly advanced and comprehensive monitoring systems that provide continuous and exhaustive information about the hemodynamic status (Blood pressure, Pulse, blood gas analysis, cardiac output values) of patients undergoing surgery.
Interventional Cardiology
The department of Cardiology provides complete and round–the–clock cardiac care. This includes both elective and emergency care provided by doctors of the highest quality supported by state of the art equipment. Apart from consultation for all kinds of Cardiac ailments and preventive cardiac measures, the unit provides comprehensive non–invasive as well as invasive services.
A team of highly talented and skilled cardiologists dedicate their time and expertise to people suffering from heart disease enabling them to lead productive and healthy lives.
The team with extensive international experience and excellent procedural skills provide the following services.
Outpatient consultation
Echocardiography
Coronary Angiography, Angioplasty and Stenting
Pacemaker Implantation
Valvuloplasty
ASD Device / Coil Closure
VSD Device / Coil Closure
PDA closure
Peripheral Angioplasty
ICD implantation
CRID implant
Executive Health Check-up
Minimal Access Cardiac Surgery
Minimally Invasive Cardiac Surgery, also known as MICS CABG (Minimally Invasive Cardiac Surgery/Coronary Artery Bypass Grafting) or The McGinn Technique is heart surgery performed through several small incisions by the side or front of the chest( without cutting the central bone of the chest) instead of the traditional open-heart surgery that requires a median sternotomy approach. MICS CABG is a beating-heart multi-vessel procedure performed under direct vision through an anterolateral mini-thoracotomy
Advantages of Minimally Invasive Heart Surgery are less blood loss, reduced post-operative discomfort, faster healing times and lowered risk of infections, as well as eliminating the possibility for deep sternal wound infection or sternal non-union. This procedure makes heart surgery possible for patients who were previously considered too high risk for traditional surgery due to age or medical history. Patients referred for this procedure may have Coronary Artery Disease (CAD); aortic, mitral or tricuspid valve diseases; or previous unsuccessful stenting.