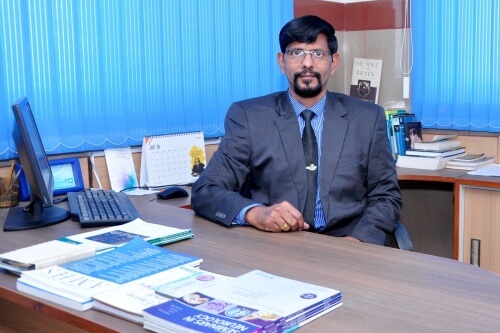 Dr. B. P Shelley
MBBS, MD (Med), DM (Neuro), FRCP (Edin)
Senior Consultant in Neurology
Cognitive & Memory Disorders Specialist
Fellowship in Behavioural Neurology (London, UK)
Fellowship in Cognitive Neurology & Disorders of Movement & Cognition (Cambridge, UK)
Dr Shelley is a Member of Indian Association of Medical Journal Editors (IAJME) , Council of Asian Science Editors (CASE) and World Association of Medical editors (WAME)
Talk by Dr B. P Shelley in commemoration of
WORLD STROKE DAY (29 October).
Prof Dr. B. P. Shelley has a credible experience of 20 years in Neurology involved in academia, teaching and research experience both in India as well as abroad. His alma mater is Kasturba Medical College, Manipal University obtaining MBBS in 1985, MD in 1991, and DM in 1995. He is the recipient of two post doctoral research fellowships in Behavioural Neurology at the Institute of Neurology, Queen Square, London in 2000, and in Cognitive Neurology & Disorders of Movement and Cognition at Addenbrooke's Hospital, Cambridge, UK in 2007.
His subspecialty interests in cognitive behavioral neurology,memory disorders & dementia syndromes, epilepsy, Tourette syndrome, disorders of movement and cognition, and interface disorders at the borderlands of neurology and psychiatry. He is the recipient of the Bharat Jyoti Award in 2012 and FRCP (Edinburgh) in 2014.
He is the Editor in chief of the official journal of Yenepoya University- Archives of Medicine and Health Sciences (www.amhsjournal.org), a peer-reviewed, indexed, open access online and print International journal published biannually by Wolters Kluwer Medknow Publications and Media Pvt. Ltd, Mumbai.  He is elected as Member of Indian Association of Medical Journal Editors (IAJME) and Council of Asian Science Editors (CASE) and World Association of Medical Editors (WAME).
Prof Dr. B. P. Shelley, will be available at Yenepoya Specialty Hospital from 4 pm to 6 pm on Monday, Wednesday and Fridays.
To Request an Appointment, Please Call 9008518855 or 0824-4238855
Neurology OPD: General Neurology & Sub-specialty Services
Neurobehavioural Disorders
Memory disorders & Cognitive Disorders
Dementias
Epilepsy
Tourette syndrome
Disorders of Movement and Cognition / Parkinson's Disease & Allied Disorders
Neuropsychiatric Disorders
TIA-Stroke-Cerebrovascular Disorders
Healthy Brain Clinic
Neuropain Disorders
Headache Disorders