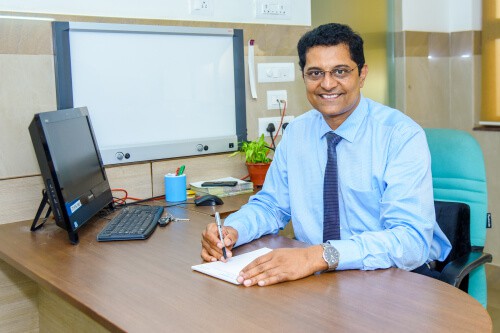 Dr. Deepak Rai
MBBS, MS (Orthopaedics)
Robotic Joint Replacement & Arthroscopy Surgeon
Dr. Deepak Rai, completed his MBBS from Mysore University and subsequently Masters in Orthopaedics from Mangalore University – 1997. He has undergone primary arthroplasty training at MIOT Hospital Chennai, and subsequently had further training at Singapore General Hospital., Singapore.
He also has visited and trained under renowned surgeons in Sydney, Austria and France. Dr. Deepak Rai is working as Consultant Orthopaedic Surgeon at Yenepoya Specialty Hospital, Mangalore since 1999.
He is specialized in Hip and Knee Arthoplasty and sports medicine. He is also trained in Complex skeletal trauma surgeries.
He has been an A.O. Fellow and trained under Prof. Karl Benedetto at Feldkirk, Austria. He has been specially trained in complex trauma and knee surgeries at Austria. He is Arthoplasty Fellow with Professor. Jean Louis Briard at Rouen France and with Professor Wei Chung Sydney Australia, and at Singapore General Hospital.
He is specialized in mobile veering knee and revision surgeries of hip and knee.
Rheumatoid arthritis and long standing arthritis.
Spondyloarthropathies
SLE
Inflammatory eye disease
Connective tissue disorders
Allergic rhinitis, asthama, itching etc
Gout and other crystal deposition diseases
Paediatric arthritis
Autoimmunity related obstetric problems
Osteoarthritis
Physiotherapy and rehabilitation
Specialised laboratory testing