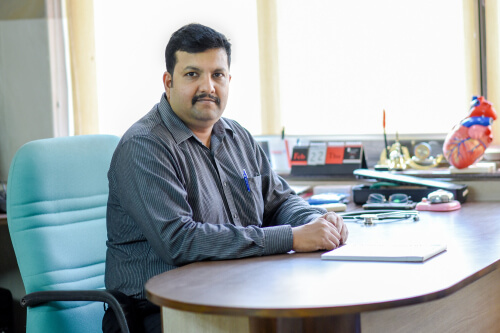 Dr. K Sakthivel
MBBS, MS, DNB, MCh (Cardiothoracic)
Cardio-Thoracic Surgeon
Dr. K.Sakthivel completed his MBBS from PSG Medical College, Coimbatore and subsequently M.S (General surgery) from JSS medical college, Mysore. Later he obtained MCh in cardiothoracic surgery from Madras Medical College.
He was awarded Gold medal in M.S (General surgery) from Rajiv Gandhi University, Karnataka and prestigious Dr.Sadasivam Gold medal in MCh cardiothoracic surgery from Dr.MGR Medical university, Tamilnadu.
Dr. Sakthivel graduated from Madras medical college which is one of the premier institutes in India, performing more than 1500 cardiac and 800 thoracic surgeries per year. He has worked in Institute of Child health, Chennai, India where over 600 pediatric cardiac surgeries are performed a year during his training. He has also worked with Dr.K.M.Cherrian at frontier hospital, Chennai during his training period.
After graduation, he has worked in internationally renowned institute Narayana Hrudayalaya, Bangalore, in Pediatric and Adult cardiac surgery with Dr. Collin John, Dr.Praveen kumar and Dr. Devi Shetty.
He then worked with Dr. Vivek Jawali, a pioneer in off- pump beating coronary artery surgeries and minimally invasive cardiac surgeries. With the acquired knowledge and work experience, he worked as Consultant in cardiothoracic surgery at Sakra world hospital and Narayana Hrudayalaya hospital, Bangalore.
OPCABG – Total arterial revascularization
Mitral and aortic valve repairs/replacement
Major Aortic Surgeries
Minimally invasive cardiothoracic surgery
Pediatric Cardiac Surgery
Thoracic Surgery
ECMO, VAD and Transplant
Robotic Cardiac Surgery