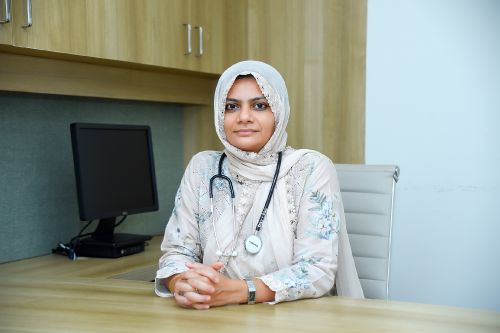 Dr. Mariam Anjum Ifthikar
M.B.B.S., M.S.(OBG) FMAS, PGDCR.


Fellow In Gynaecologic Oncology (Kmio)
Mch Gynaecologic Oncology
Visiting consultant – Gynaecological oncologist, Laparoscopic & Robotic Surgeon
Dr. Mariam Anjum has joined us as a visiting consultant – Gynaecologist and gynaecological oncologist since December 1st 2019. Recognised as first Gynaecological Oncologist in Mangalore, Dakshina Kannada.
Dr. Anjum has obtained a bachelor's degree in medicine and surgery in 2007. She pursued her MS in Obstetrics and Gynaecology in 2011.
Further Dr.Anjum pursued a post doctoral fellowship in Gynaeconcology at Kidwai Memorial Institute of Oncology Bangalore in 2015 under Rajeev Gandhi University of health sciences.
Trained in Chemotherapy for Gynaeoncological cancers, palliative oncology, preventive oncology, advanced Onco pelvic surgeries. Further pursued Mch Gynaecological oncology from Amrita institute of medical sciences, Ernakulum in the department of Breast, Robotic and Gynaecological Oncology in 2019.
Dr Mariam Anjum Ifthikar has over 12 years of experience in the comprehensive cancer care in Gynaeconcology and specialist in gynaeoncological services. Spectrum includes:
Benign Gynaecological diseases like fibroids, adenomyosis, Endometriosis, menstrual disorders, pre invasive gynaecological conditions, ovarian cancer, uterine cancer, cervical cancer, vulva cancer, vaginal cancer, molar pregnancy (GTD), Colposcopy (Preventive oncology), Palliative oncology, Laparascopy, Robotic Surgery, HPV Vaccination.
Dr. Anjum, has done several National and International presentations in the stream of Gynaeconcology and is affiliated to several professional associations (IGCS, SAGES, FOGSI, ASGO, ESGO, AGOI).
Dr. Mariam Anjum Ifthikar is available from 9-10 am from Monday to Saturday to request appointment please call 6364758855(9am to 6pm)