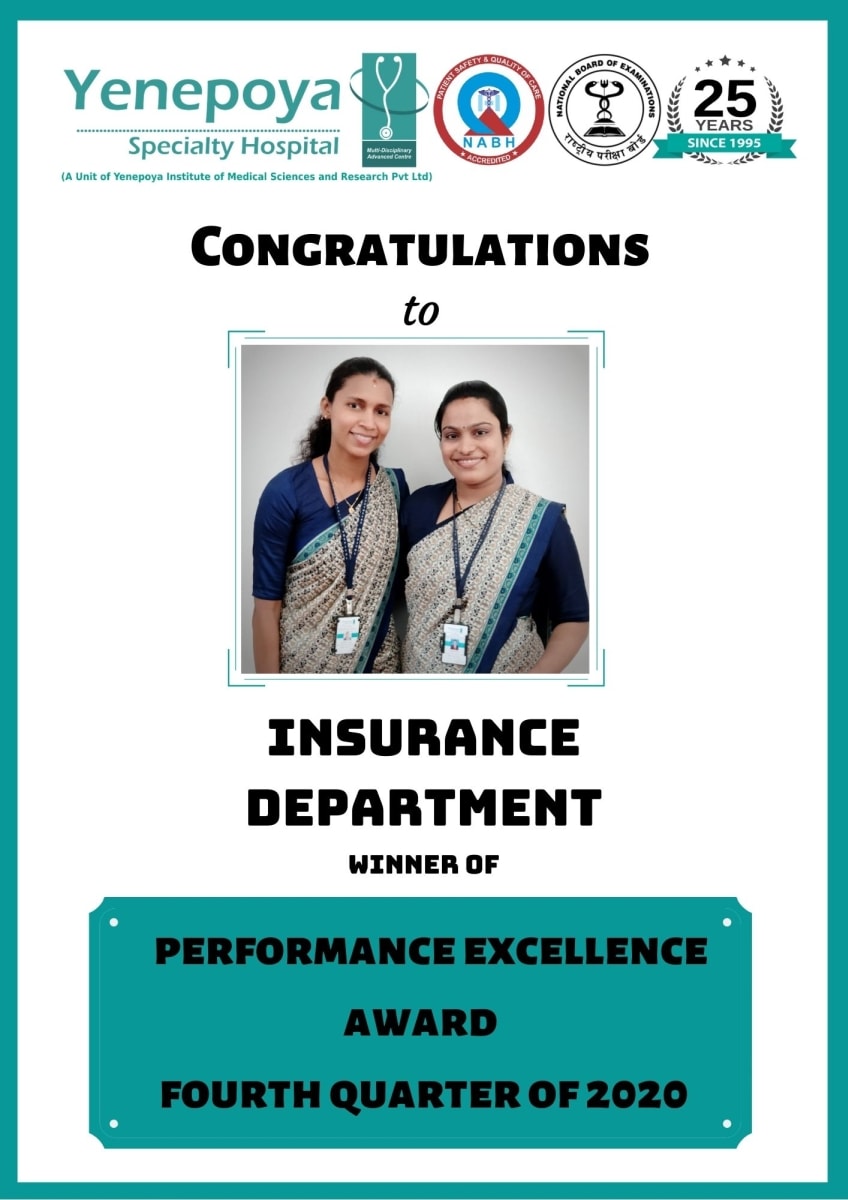 It gives me immense pleasure to announce the Performance Excellence Award for the Fourth Quarter of 2020 (October – December 2020).
We have received few nominations and we thank each one of them for taking time to nominate their colleagues for this award. The jury members have scrutinized all the nominations and Insurance Department has been selected as the Department of Distinguished Performance for the Fourth Quarter 2020.
INSURANCE DEPARTMENT has been nominated for the best performer award for the 4th Quarter (October – December 2020) for the following reasons:
The team – Shruthi & Harinikshi has performed their best in handling the department with highest professionalism and accuracy within the last 3 months and more.
There were 4 full time staff which we reduced to just 2. It is their perseverance and re-assurance to the management that they can play their roles efficiently without more numbers and they proved it. The claim submission TAT is a proof.
They have proved even higher during the difficult time of COVID that they can sustain with even 9% of average concession which includes TPA discount, package discount and Insurance cap.
The efficiency of ascertaining maximum approval for the claims against the mount on higher side is an achievement by itself in spite of regulations by the authorities.
The recovery chart for the year 2019-2020 shows an outstanding of just 2% which is very impressive. Due to this reason, the cash flow increased.
3 year progress data for the Insurance attached is also very impressive.
Ms Harinakshi Poojari (E#274) – Insurance Assistant
Ms Harinakshi Poojari, joined us on 18/04/2012 as Ward Secretary. She joined us with one month experience at a computer Office as receptionist.
In 2017, Harinakshi was promoted to Insurance Assistant and is still working in the same capacity.
Harinakshi has completed her PUC.
Ms Shruthi (E#1045) – Insurance Executive
Ms Shruthi joined us on 19 August 2019 in the capacity of Insurance Executive. Ms Shruthi, who is a Commerce Graduate (BCom) has undergone Business Computer Application and Spoken English Course, Computer Programmer Course, Tally with VAT Training as well.
Prior to joining YSH, Ms Shruthi was working with Global MultiSpecialty Hospital in the capacity of Insurance Co-ordinator cum Billing cum Receptionist for a period of 5.7 years.
Wishing the duo many more achievements.